#
Token
Snail Trail has a single native ERC-20 compliant token SLIME. Tokens will be rewarded to players through in-game mechanics who will then, in turn, be able to use them on several mechanics.
#
Utility
Tokens can be used for the following mechanics:
Competitive Races
Incubator
Laboratory
Microwave
Micro-transactions
and more!
#
Tokenomics
Token Name: SLIME
Supply: 300,000,000
Circ. Supply: via API (Updates Daily)
Trader Joe LP: 0x5a15bdcf9a3a8e799fa4381e666466a516f2d9c8
Chain: Avalanche C-Chain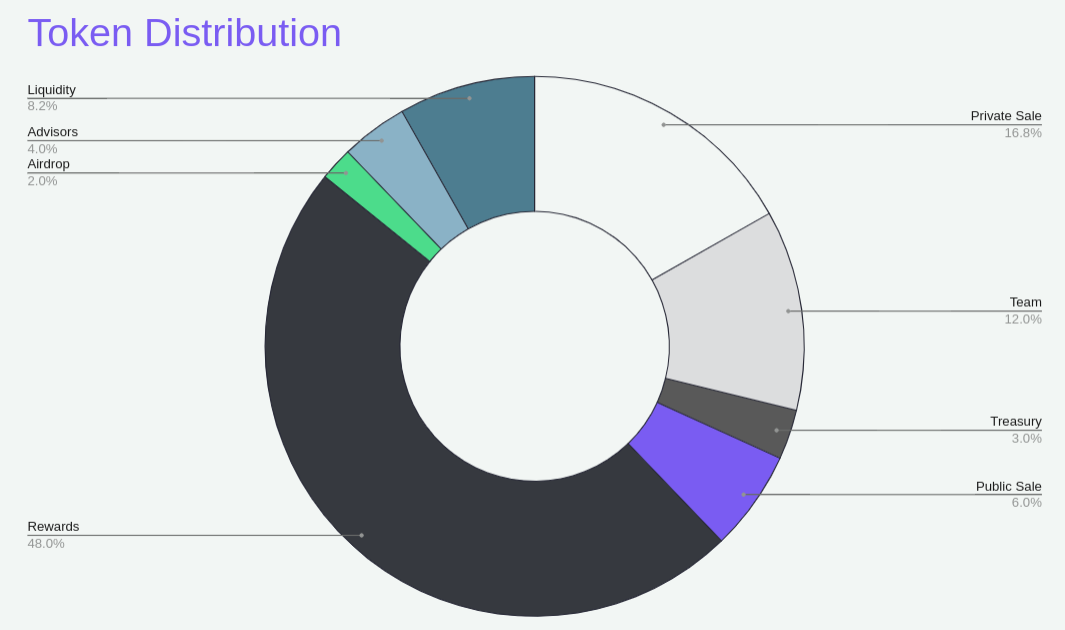 ---
#
Vesting
| Type | Unlock Plan |
| --- | --- |
| Private | 10% TGE, 18 month vest (6 month cliff, quarterly release) |
| Public | 25% at TGE (6 months vest, monthly release) |
| Team | 2 years vest (12 month cliff, quarterly release) |
| Advisors | 2 years vest (12 month cliff, quarterly release) |
| Liquidity | 100% at TGE to be deployed contingent upon listing plans |
| Reward | See: Rewards Emission |
| Treasury | 1 year vest (3 month cliff, monthly unlocks for 9 months) |
| Airdrop | 12-month cliff, discretionary unlock thereafter |
Private Sale: $0.055
Public Sale: 0.00096 Avax
TGE Date: 02 May 2022
---
#
Rewards Emission
Rewards Supply: 144,000,000
48% of the total tokens are reserved for in-game rewards.
Half of the rewards will be distributed with in-game play-to-earn concepts in the first two years (for more details see the table below).
The remaining half will be used for tournaments, seasonal rewards, bonuses, future game modes, failsafe mechanisms and other developments in the upcoming years.
The below table shows the estimated targeted emission amounts. These numbers might change depending on in-game demands and activity.
Rewards per daily missions (or any other future reward distributing mechanisms) are calculated and will be distributed to achieve the below emission targets.
If a monthly target does not meet with the mission emissions, remaining token will be added to next month's calculation and mission rewards will be calculated accordingly.
| Month | Targeted Rewards Emissions per Month | Cumulative Rewards Emissions |
| --- | --- | --- |
| Month 1 | 4,890,000 | 4,890,000 |
| Month 2 | 4,710,000 | 9,600,000 |
| Month 3 | 4,530,000 | 14,130,000 |
| Month 4 | 4,170,000 | 18,300,000 |
| Month 5 | 3,990,000 | 22,290,000 |
| Month 6 | 3,810,000 | 26,100,000 |
| Month 7 | 3,570,000 | 29,670,000 |
| Month 8 | 3,390,000 | 33,060,000 |
| Month 9 | 3,210,000 | 36,270,000 |
| Month 10 | 3,090,000 | 39,360,000 |
| Month 11 | 2,910,000 | 42,270,000 |
| Month 12 | 2,730,000 | 45,000,000 |
| Month 13 | 2,730,000 | 47,730,000 |
| Month 14 | 2,550,000 | 50,280,000 |
| Month 15 | 2,370,000 | 52,650,000 |
| Month 16 | 2,490,000 | 55,140,000 |
| Month 17 | 2,310,000 | 57,450,000 |
| Month 18 | 2,130,000 | 59,580,000 |
| Month 19 | 2,370,000 | 61,950,000 |
| Month 20 | 2,190,000 | 64,140,000 |
| Month 21 | 2,010,000 | 66,150,000 |
| Month 22 | 2,130,000 | 68,280,000 |
| Month 23 | 1,950,000 | 70,230,000 |
| Month 24 | 1,770,000 | 72,000,000 |
---